Profile of Brad P. Navarre, PE
Brad Navarre has over 15 years of engineering experience primarily in the Ports & Harbors, Maritime, and Bulk Material industries for projects globally at numerous worldwide port facilities with specific experience with heavy lift equipment, dockside gantry cranes, yard cranes, and bulk material conveyance systems.
He has worked primarily as a consulting engineer and specializes in project management, budgetary cost and planning development, preparation of technical and commercial specifications, detail engineering design, technical personnel supervision, fabrication methods and quality control oversight, shipment of equipment, assembly methods and procedures, and final commissioning and testing of container handling gantry cranes, rubber tired container handling gantry cranes, yard equipment for the container handling industry.
He has been involved in numerous crane procurement, refurbishment, repair, upgrade, conditional assessment, and accident & damage projects in capacities ranging from project engineer, mechanical design, site oversight, and project management.
Additionally, Brad is a NACE Coating Inspector Level 2 – Certified.
Professional Consulting Engineering
Professional consulting engineer specializing in port and maritime equipment, primarily container handling and bulk material handling equipment.
Range of experience / services offered include:
New and used equipment procurement
Technical specification preparation
Design review
Project management
Fabrication inspection
Start-up, testing & commissioning oversight
Equipment relocation
Equipment conditional surveys
Equipment maintenance, remaining useful life, & valuation assessment
Equipment refurbishment & upgrade assessment & design
Equipment accident & damage assessment & repair design
Equipment accident investigation & expert witness
Equipment configuration modifications feasibility study & conceptual/detail design
In depth knowledge of applicable codes including: AISC, AISE, AGMA, ANSI, AWS, CMAA, DIN, FEM, BS, EN, OSHA etc.
Work History
Boos Navarre, LLC
Principal / Managing Partner
Representative Projects
Procurement of two (2) 24w STS cranes – Asyaport, Turkey
Design review
Fabrication oversight
Procurement of four (4) 22w STS cranes – Asyaport, Turkey
Technical specification preparation
Design review
Fabrication oversight
Procurement of three (3) 13w STS cranes – Asyaport, Turkey
Technical specification preparation
Design review
Fabrication oversight
Procurement of twenty-four (24) E-RTG cranes – Asyaport, Turkey
Technical specification preparation
Design review
Fabrication oversight
Procurement of six (6) 22w STS cranes – Lome Container Terminal, Togo
Procurement of twelve (12) E-RTG cranes – Lome Container Terminal, Togo
STS Crane Outreach Extension Feasibility Study – Portonave, Brazil
Equipment configuration modification
Main Hoist Drum Failure – Port of New Orleans, Louisiana USA
Equipment accident & damage assessment, repair design and fabrication inspection
STS Trolley rail system installation re-design – Port of New Orleans, Louisiana USA
Equipment refurbishment design
RTG trolley rail system failure and redesign – Global Terminal, New Jersey USA
Equipment accident & damage assessment & repair design
Four (4) RTGs – New Orleans, Louisiana USA
Procurement three (3) RMG cranes – New York Container Terminal, New York USA
Procurement three (3) 22w STS cranes – Global Terminal, New Jersey USA
Bid technical review
Evaluation of new STS dock loading to optimize existing dock utilization
Procurement one (1) grab bucket ship unloader – Port of Lake Charles, Louisiana
Pre-commissioning conditional inspection
Procurement of two (2) 24w STS cranes – Asyaport, Turkey
Design review
Fabrication oversight
Shaw GBB (formerly Gottlieb, Barnett & Bridges, LLC (GBB))
Project Manager/Engineer (Shaw GBB)
Mechanical/Project Engineer (GBB)
Representative Projects
Procurement of two (2) 18w STS cranes – Port of New Orleans, Louisiana USA
Technical specification preparation
Design review
Project management
Fabrication inspection
Start-up, testing & commissioning oversight
Procurement of two (2) 18w STS cranes – Port of Philadelphia, Pennsylvania USA
Technical specification preparation
Design review
Project management
Fabrication inspection
Start-up, testing & commissioning oversight
Procurement of two (2) grab bucket barge unloaders – CSA, Brazil
Technical specification preparation
Design review
Project management
Fabrication inspection
Start-up, testing & commissioning oversight
Procurement of two (2) grab bucket barge unloaders – Holcim (US) Inc., Alabama USA
Technical specification preparation
Design review
Project management
Fabrication inspection
Start-up, testing & commissioning oversight
Relocation & refurbishment of two (2) STS cranes from New Orleans, LA to Mobile, AL USA
Refurbishment design
Technical specification preparation
Bid evaluation
Submittal review
Project management
Legal interface
Commissioning & testing oversight
Boom damage repair of one (1) STS crane – Port of New Orleans, Louisiana USA
Equipment accident & damage assessment & repair design
Relocation & refurbishment of one (1) STS crane from Kingston, Jamaica to Wilmington, North Carolina USA
Refurbishment design
Commissioning & testing oversight
Hurricane damage assessment of three (3) STS Cranes – Halterm, Halifax, Nova Scotia
Various design modifications, repairs, refurbishments, upgrades, conditional survey projects for container handling and bulk material handling equipment including:
Trolley rail system refurbishments
Gantry wheel brake upgrades
Bearing failure analysis and repair design
Wheel axle, tensioner arm, and other miscellaneous components failure analysis and repair design
STS slab handling crane RFID linear extension device design
Shuttle boom conveyor ship loader wheel failure repair and design modification
Operator's cabin replacement
Main hoist capacity increase analysis
STS crane relocations & refurbishments project oversight
Crane certification water test tank design
Container terminal master plan development
Design of bulk material handling systems at coal terminal including:
Relocation of 1500 TPH barge loading operation including new conveyor design
Installation of a new 2000ft. dozer trap reclaim conveyor
Installation of two (2) new rail mounted reclaim hoppers for feeding a barge loading operation via front end loaders
Conceptual and preliminary budget, schedule, and design of terminal throughput capacity increase from 18 million tons/year to 30+ million tons/year through the addition of 17 conveyors, 3 stacker reclaimers, 2 rail mounted reclaim hoppers, 1 new ship loader, 1 dust suppression system, and two (2) new electrical control buildings as well as modification/refurbishment to numerous existing conveyors, structures, and other equipment.  Presented design to Port Executive management and Coal Terminal Customer Senior Management for project consideration and approval
GDX Automotive (formerly Gencorp, Inc.)
Program Manager/Engineer
Process Manufacturing Engineer
Representative Projects
New automotive product manufacturing management from development through launch and initial production
Capital equipment and tooling procurement for new automotive products
APQP document development coordination per QS9000 requirements
Customer and design team interaction regarding manufacturing issues
CAD system and CAD standards management for production parts and plant layouts
Assist in layout of new 286,000 sq. ft. manufacturing facility by means of Systematic Layout Planning(SLP) and lean manufacturing
Design and execute projects for a Mori-Seiki CNC vertical mill
Develop processes to aid in Q1 certification
Conduct process audits as an ISO9001/QS9000 internal auditor
Evaluate and improve upon manufacturing processes & parameters following QS-9000 guidelines
Resolve customer complaints through 8-D process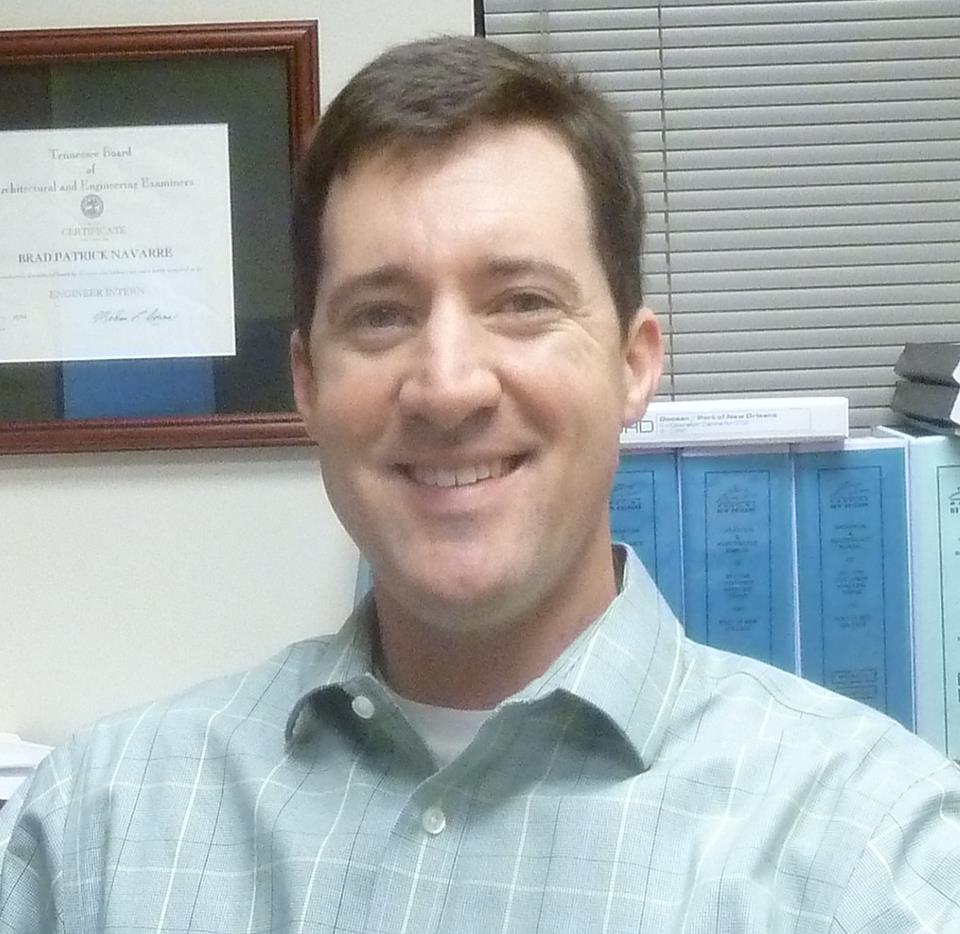 Brad P. Navarre, PE
Principal
Credentials
Education
Lindenwood University
St. Charles, MO
2000-2001
Degree Pursued: Masters of Business Administration
Christian Brothers University
Memphis, TN
1999
Bachelor of Science – Mechanical Engineering
Certifications/Licenses
Brad Navarre is a registered, active professional engineer in the USA and holds the following certifications/licenses:
Principles & Practice of Engineering (PE)
Alabama, Florida, Louisiana, New York, North Carolina, Pennsylvania
Fundamentals of Engineering (FE)
Tennessee
National Council of Examiners for Engineering and Surveying (NCEES)
Registered Member
NACE
NACE Coating Inspector Level 2 – Certified
Contact Details
Mailing Address
P.O. Box 1018
Daphne, AL 36526
Office
Phone: +1.251.459.0862
Fax: +1.251.517.0009
Direct Contact
Mobile: +1.251.767.7334
E-mail: bnavarre@boosnavarre.com
Social